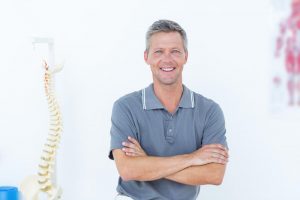 In addition to chiropractic care, massage therapy, and nutritional guidance, In Motion Chiropractic and Rehabilitation offers corporate wellness plans are that designed to create healthier workplaces in businesses of all sizes. Small businesses that do not provide health care benefits can use this service to ensure happy, healthy employees.
Similarly, large companies can use this service to better prioritize the well-being in the workplace.
What do corporate wellness plans include?
Depending on your needs, our practice offers several different corporate wellness packages.
One way to get started is by taking advantage of our quarterly education talks, which will include a personal visit from us to your office. During each meeting, we will review a variety of health-related topics that you might be interested in pursuing. For instance, subjects such as ergonomics can be of critical importance to your employees.
By educating staff regarding healthy posture and positions they should be using throughout the work day, they will have the ability to make improvements that lead to significant health benefits.
If you are interested in using our services for more than educational purposes, we would be happy to help you put together a care plan for your employees to rely on outside the office. With any or all of our services, we want to be able to help you keep your employees healthy and safe while avoiding unnecessary injuries. You name it – we have you covered!
​
Cost of Care
Our fees vary depending on a multitude of factors. When deciding cost of our packages, we take into account both the combination of services needed as well as the number of employees being served. Based on those criteria, we will be able to determine a set rate for your group, including an explanation of available care.