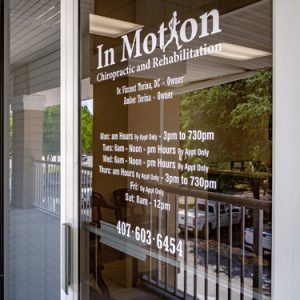 Along with chiropractic care, In Motion Chiropractic and Rehabilitation is proud to offer a variety of physical rehabilitation services, including all levels of stretching, exercise, and more. Through these techniques, we aim to help our patients improve muscle strength, flexibility, and range of motion following severe injury or loss of function.
How long does it take?
Our practice is home to highly-skilled professionals who are equipped to assess and address injuries as well as evaluate underlying mechanical and structural problems that may be contributing to more obvious symptoms. Depending on the severity of the injury and the current condition of the individual, recovery times can span from a few weeks to several months. Physical rehabilitation is often expedited when used in combination with chiropractic care.
Who does it help?
We recommend physical rehabilitation to anyone who comes in experiencing limitations due to repetitive motion or deconditioned muscles.
Designed to reduce pain and improve function during the recovery process, almost and injury, whether acute or chronic, can be nursed through appropriate rehabilitative procedures.
Both athletes suffering sports-induced injuries and non-athletes facing discomfort caused by repeated wear and tear can benefit from physical rehabilitation.
Common Benefits
No two patients require the same physical rehabilitation. While some injuries can be complex in nature, rendering specific, regimented care to effectively reduce pain and promote healing, other complications need less attention.
Regardless of your condition, however, physical rehabilitation has been known to encourage various long-term advantages, including more muscle strength, increased flexibility, heightened mobility, decreased inflammation, improved muscle tenacity, and better overall spinal stability.
Feel Better Today
Are you interested in physical rehabilitation? In Motion Chiropractic and Rehabilitation is excited to meet you, understand your pain, and help you develop a plan of care that is right for you. Start healing today!