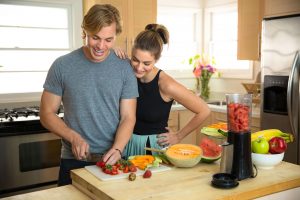 Our practice believes that nutrition is fundamental to overall wellness. As our goal is to continue to help the body heal from the inside out, In Motion Chiropractic and Rehabilitation gladly offers nutritional advice and education to our patients in the form of one-on-one sessions. Dr. T is invested in your health, and with his assistance, you can establish a nutrition plan that allows you to live your best life.
Why is nutrition important?
"With the chiropractic adjustment, we're helping from a neuromuscular and skeletal standpoint. With nutrition, we're trying to help from a healthy gut standpoint."
Every year, the food industry is falling shorter and shorter of providing human beings with the nutritional benefits of whole foods. Appealing to every addiction, whether it be to salt, sugar, or another additive, our meals are often over-processed and lacking many of the nutrients that our bodies need to thrive. Dr. T understands the importance of proper nutrition and is committed to helping you replenish your body with the significant vitamins and minerals necessary to utmost health.
What We Can Do
Healthy insides have been tied to blood flow and inflammation. For this reason, we strive to suggest nutritional alterations that will best help the individual heal from the consequences of the specific condition they are experiencing.
While some cases involve only changes in diet, others involve changes in diet as well as additional supplementation to achieve increased health. From recommending anti-inflammatories for acute illnesses, to managing blood chemistry levels for chronic diseases, we stop at nothing to help our patients live a healthier lifestyle that is less reliant on traditional medical means. Rest assured, In Motion Chiropractic and Rehabilitation is on your side.
Our Supplements
We work with an online company that produces pharmaceutical-grade, scientifically-measured nutritional supplements that can be delivered directly to your home. Orders can be made independently or scheduled to continue on an automatic basis. All available nutraceuticals can be purchased at our cost.